EUROPEAN CULTURE
Networks
in communities
Languages
ISTITUTIONS
E.C.E.'s NETWORKS

Centers of Reserch and Educationals Experimentation

Hight Formation in Human and Social Sciences

Education in Art and Creativity

Scientific Mathematics and Informatics

Educations to the Languages and Cultures
| | | |
| --- | --- | --- |
| | RESEARCH - INNOVATION | |
Siti E.C.E.
.it
italian
ecedu.eu
portugues
.eu
english
.info
publications
.org
spanish

New book

The University of Monterrey (UDEM) will publish the model ISPEF about the Center for infancy and family, the experiences of Strathegies Professor realized by the alumns of the Maestria of UDEM and the projectuality 2009-2012 of the international networks REEI and REALINFO to improve the quality of the institutions for infancy.

Meeting Universitad de Monterrey (Mexico)

32ND ANNUAL CONFERENCE OF THE SOCIETY OF EDUCATORS AND SCHOLARS

March 27-28, 2009

Universidad De Monterrey, Monterrey, Mexico

LA FAMIGLIA, I BAMBINI E LA COMUNITA' EDUCANTE DEL XXI SECOLO (read all)

Strathegies Professor for the starting and preschool education

For the third year Fausto Presutti has made in the University of Monterrey ( Mexico), as hosting Professor, the course "Strathegies Professor for the starting and preschool education" in the specialisation of the Department of Education

International Meeting "Game, Toys and Creativity"

R.E.I. presents "Game, Toys and Creativity", International Meeting at Guardiagrele from 29 to 31 may 2008

E- learning Courses recognized from Dep of employment.

L'ISPEF ispef realizes e- learning courses, totally free, recognized from the Department of Employment.

European Center of Education E.C.E.

The poor ability of European System to put in the net knowledge communities and innovatives educational models, allow to realize a new institutional center of university, research centers and educational bodies accredited from every european country. so it borned:

European Center of Education (ECE)

E.C.E.'s Mission

E.C.E.

M

ission is to realize what is established in Lisbona's Council, as regard educational cooperation of the eEuropean Space of Formation, Knowledge and Educational's Quality in universitary, scholastic, infancy and work field.

E.C.E. Networks

The nine European Networks of E.C.E. read all

Seventh Framework Programme

The Seventh Framework Programme will be realized to create a knowledge society, on the basis of the european space of research. ue has found nine themes for the communitary action, for the cooperation between states.the Euroean Center of Education is supposed to regard mainly the activities of the sectors 3 and 8:

Information and Communication Technology

Socioeconomic and Human Sciences

School, University and European Projecti

The new European Constitution, signed in rome , 29 october 2004, from the 25 members states, has committed ue the task to develop a good-quality instruction. European Union asks to stimulate the cooperation and the exchange of information and experiences lisbona treaty (2000) underlines the necessity to realize an educational european space, by integrating european dimension and educational politics.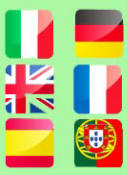 PARTNER E.C.E.

Facoltà di Scienze della Formazione

UNTREF

Universitad National de TresFebrero

Divisiòn de Posgrados

y Nifede

Università

Castel Sant'Angelo

ITIS

L'Aquila

"Amedeo di Savoia Duca D'Aosta"